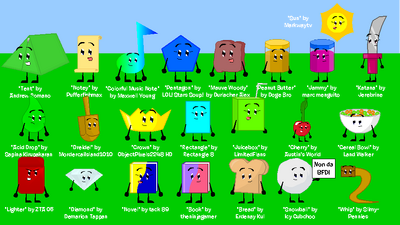 Recommended characters are characters recommended to appear on
Object Trek
by the viewers. Most recommended characters appear in crowds, but a few of them interact with the contestants.
List of recommended characters
Edit
"Paint Bucket" by Joel Morrison
"Kitty" by Just A Cuphead Fan
"Rubik's Cube" by MrMenCentral
"Tent" by Andrew Romano
"Notey" by Pufferfishmax
"Colorful Music Note" by Maxwell Young
"Pentagon" by LOL! Stars Soup!
"Mauve Woody" by Durlacher Alex
"Peanut Butter" by Doge Bro
"Jammy" by marc menguito
"Sun" by Markwaytv
"Katana" by Jerebrine
"Acid Drop" by Sapina Kirupakaran
"Dreidel" by MordercaiIsland1010
"Crown" by ObjectPixels2248HD
"Rectangle" by Rectangle 8
"Juicebox" by LimitedFlans
"Cherry" by Austin's World
"Cereal Bowl" by Land Walker
"Lighter" by ZTA 05
"Diamond" by Demarion Tappan
"Novel" by tack 89
"Book" by theninjagamer
"Bread" by Erdenay Kul
"Snowball" by Icy Cubchoo
"Whip" by Slimy-Pennies
So far, Kitty, Rubik's Cube, and Paint Bucket were the only recommended characters to interact with the contestants.
Kitty, Rubik's Cube, and Katana are the only recommended characters who have spoken so far.
Acid Drop is currently the only Object Trek character that starts with "A".
There is another Notey in Object Multiverse, but they have different personalities.
Cereal Bowl, Crown, Diamond, Katana, Kitty, Juicebox, Paint Bucket, and Sun all joined ZOMG.
Book and Snowball are in BFB.